VERNACCIA DI SAN GIMIGNANO DOCG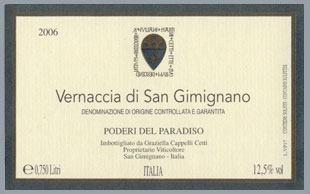 Vernaccia di San Gimignano 100%
Annual Harvest in boxes and soft pressing in a inert gas.

Available capacities:
ml. 375
ml. 750
ml. 1500 (on request)

Vinification:
Grapes pressed direct interaction and clean cold staticthe must.
Fermentation in stainless steel.


Temperature and duration of fermentation: 18°C per 30 giorni. 18°C for 30 days. Contact on fine lees for 60 days.
Straw-colored, fruity fragrance with floral notes, good texture, harmonious and persistent.